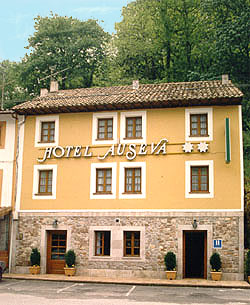 CARRETERA GENERAL S/N COVADONGA - COVADONGA. ASTURIAS. ESPAÑA See Map
Located in the entrance from the National Park, to 500 meters from Real Site of Covadonga (in the Field of Repelao), to 5 km away from Cangas de Onís.It offers 12 modern rooms with heating, bath complete, hairdryer, television and telephone.
Real Sitio de Covadonga, s/n - Covadonga. Asturias. España See Map
Con su reciente rehabilitación integral y la obtención de la "Q de Calidad", el Arcea Gran Hotel Pelayo ha incorporado a su elegancia tradicional todo el confort de un "cuatro estrellas superior", un nivel de calidad en el servicio y equipamiento a la altura de su excepcional situación, en pleno corazón del Parque Nacional de los Picos de Europa, dónde la historia y la naturaleza unen...